Our wanderings on the canals
This page links to logs of our many trips on the canals of the UK. The canals are a fantastic resource with several thousand miles of waterways covering most of the UK.
From Andrew's first canal trip at the age of 10, we have had various trips on hire boats, owned a share in a boat for 3 years and in 2014 bought our own boat!
NB Mind Like Water
For years we had been dreaming about buying a narrowboat when we retired. In March / April 2014, a series of events got us thinking "What if things go wrong and we end up never having made that leap?"
We there and then resolved to actively look for a cheap boat that would get us on the water sooner rather than later. Friends and family will know that when we when we start thinking about doing things, events have a habit of moving quite quickly…
Hence we found ourselves, at the end of May 2014, the proud owners of a 33ft cruiser stern narrowboat called "Mind Like Water"!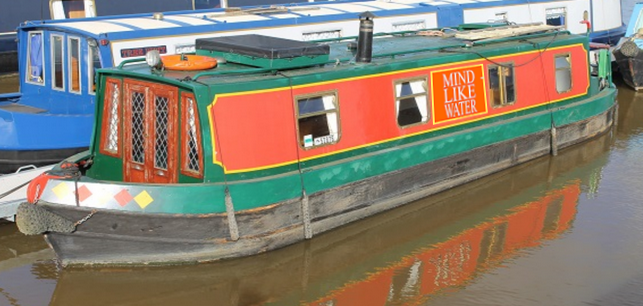 The name comes from David Allen, creator of the GTD (Getting Things Done) system. It's a martial arts term which refers to reacting appropriately to events; neither over-reacting or under-reacting, not fretting about what might happen but taking events as they come. It's a concept that came to mean a lot to us during the events which triggered our boat purchase. So when buying the boat "Mind Like Water" seemed like an appropriate name. Here a link to an article by David Allen about Mind Like Water.
Logs of our trips on "Mind Like Water" can be found on the Narrowboat Mind Like Water blog.
We thought that having previously owned a boat-share, we knew a lot about boats... Wrong! Well we did know a fair amount about handling a narrowboat but owning one is a different kettle of fish! No management company to delegate work to when things go wrong. It's been quite a learning curve but such a great experience.
We are currently moored at the Nantwich Canal Centre. It's about 1hr 15m drive away so very convenient for weekends and about 10 minutes walk from the centre of Nantwich which is a very nice town. Lots of good pubs and various festivals during the year.