Trent & Mersey Canal - February 2005
Etruria (Stoke on Trent) to Middlewich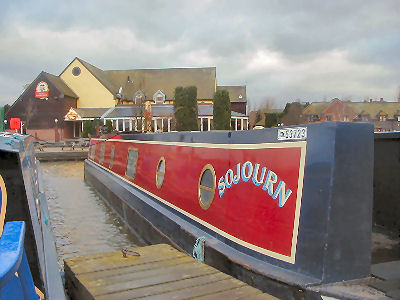 This was our first week on Sojourn after buying our share
Friday 11th Feb 2005
Arrived Etruria Marina around 18:30. Pouring rain! Got stuff on board quickly then over the bridge to the Inn / carvery. Enormous and well cooked meal then staggered back. Straight to bed at 21:00. Last Sunday, Andrew checking stoppages realised that planned route south was not possible so had to book passage north through Harecastle Tunnel for 11:00 on Saturday
Saturday 12th Feb 2005
Etruria to Red Bull (4.5m, 3 locks and Harecastle tunnel!)
Up around 07:30 after good night's sleep. Andrew Cooley due around 08:30 for introduction to Sojourn. No milk so had toast & chocolate spread. Not very hungry after last night's meal! Alison & Laura to Asda. Andrew C. arrived promptly and gave full rundown of systems. Lots to remember! He then got us out of the marina which was a very good thing as very windy! Off to the tunnel...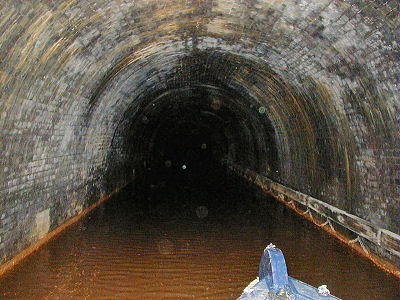 Arrived Harecastle around 10:45 and went almost straight in with no waiting. Very exciting experience. Roof so low at one point that Andrew had to kneel down to steer. Not ideal on first day... Went through one lock (some staff development needed on lock work!) then moored for lunch. Bacon, lettuce and mayo sarnies. Yumm! After lunch Marc stood in the galley and asked "Where's the dishwasher?" Bless!
After lunch, carried on for a couple of locks to find a water point as we seemed to be dry, Filled up very quickly. Turns out that the water pump switch had been kicked off... Thought about carrying on but next set of pubs were 9 locks away and the weather was appalling. Heavy rain and strong winds so decided to moor up. Siesta for Andrew! Nice meal at the Red Bull pub and back to Sojourn for coffee, bourbon and quiet evening.
Sunday 13th Feb 2005
Red Bull to Hassall Green (4.5m, 15 locks)
Woke to blue skies. Still windy and some clouds in evidence. Cereal and tea for breakfast. Under way around 09:10. Nine locks to Thurlwood. Lock teamwork developing nicely. Strong crosswinds a challenge for the helmsman! Moored at Thurlwood opposite the Broughton Arms. Tried to moor next to the pub but the wind had other ideas... Left engine running to ensure hot water for Andrew shower. Lovely!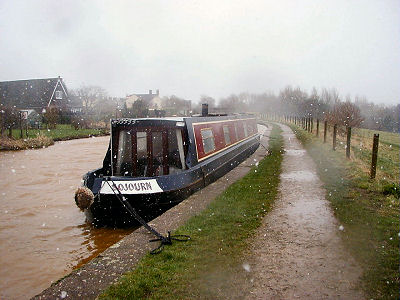 Started snowing around 11:30!! Andrew ventured out around 12:30 to check out the village. got as far as the excellent PO (around 100 yards from the pub) which had wide range of goods and a cash machine. Super lunch at pub. Combo platter & potato wedges followed by burgers for kids, chili for Dad & liver and sausage for Mum. Sponge pudding type desserts (with custard of course). Several pints of Marston Pedigree / glasses of white wine helped to wash it down.
Expected a quiet afternoon but discovered that we had already finished 2nd gas bottle so had mad dash to Hassall Green PO who had one cylinder. Just as well as failed to light the stove despite using many firelighters. Andrew C. rang this evening to check if we wanted a valet and to check all OK. He says we probably need kindling. Will try tomorrow. Also mentioned dead TV. Will try in 240V tomorrow and can ring the yard if we need a replacement. Settled in bed by 7pm tonight!! Remembered to grease the stern tube before retiring tonight. This avoids getting dressed again at 21:30 when you remember it like Andrew did last night! Very windy again but snug in bed.
Monday 14th Feb 2005
Hassall Green to Middlewich (8m, 16 locks)

Up around 08:00. Cereal for breakfast. Off around 09:00 looking for gas. Nothing at Malkins. Tried to investigate TV. No joy. Don't know if it's the set or the 12V supply. Carried on through Wheelock locks then Alison had a go at steering! Andrew helped her through the first lock we encountered then left her to do the next 2 solo. No problems!! Next moored for lunch and to recover...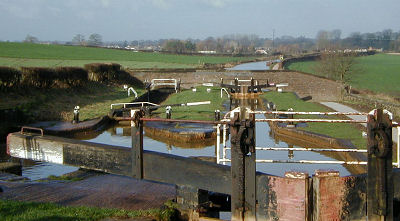 Tried ringing the marina ref the TV except Alison used last number redial and ended up speaking to the Hassall Green PO!! Tried again and spoke to Les. No spares as all away to be mended. But around 20 mins later got a call to say they had got one from another boat and would meet us at Kings Lock, Middlewich. So we pushed on through the next few locks. Met the engineer above Kings Lock and Alison went to get gas which she brought back in a wheelbarrow!
TV problem turns out o be lack of 12V at the front of the boat. Engineer had a good poke round but no luck. After he left we did 4 more locks then moored up. Kids watched Shrek 2 on TV (plugged into 240V) while dinner cooking. Very nice mince, potatoes and carrots washed down with a bottle of Rioja. In bed by 8pm. Tiring stuff this fresh air!
Tuesday 15th Feb 2005
Middlewich to Wheelock (6m, 8 locks)
Andrew up around 08:00 to make tea. Then off to explore Middlewich. Not a huge amount to see!! Found a Somerfield and stocked up with essentials; bread, milk & chocolate! Had baguette and jam for breakfast. Alison and kids off to explore while Andrew investigated 12V supply. Found two more 12V sockets, a 240V and a TV aerial socket hidden under a shelf. Went to buy a multimeter and screwdriver. Very difficult to find until directed to Winton (?) Plant Hire which was a real Aladdin's cave. Alison and kids found lots of gloves etc. at the Tuesday market.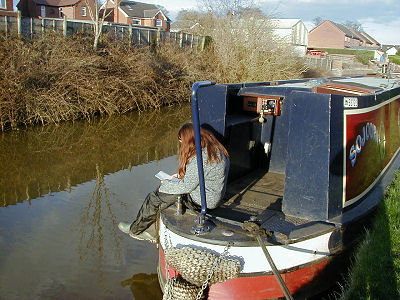 Set off on return journey around 11:35. Needed to wind first. Back through crowded junction up through 4 locks to Kings Lock where we stopped for fish and chips. Very nice and as Alison said "Cheap as chips!". Fairly uneventful journey back to Wheelock. Alison had another go at steering through 3 locks. One rather leaky lock took ages to fill especially when we were too cocky and closed one paddle a little early (lock started to empty again!). Off to Cheshire Cheese pub for a couple of pints followed by fry-up on boat (during which we discovered the smoke alarm!). Then two games of Yahtzee and bed.
Wednesday 16th Feb 2005
Wheelock to Thurlwood (4m, 14 locks)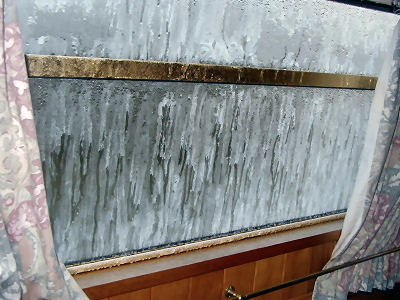 Woke to heavy frost on inside of windows. Kettle on and central heating cranked up.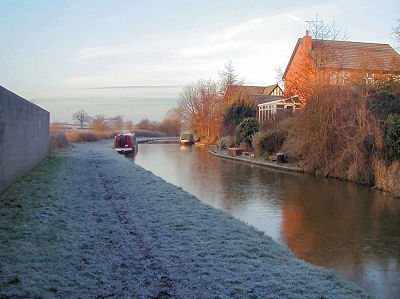 When Andrew emerged to start engine, found the canal frozen!!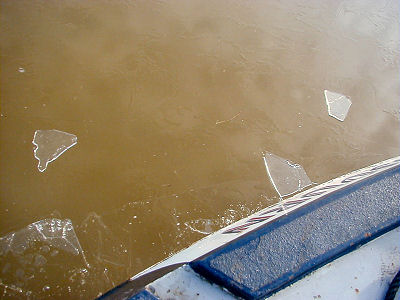 After quick breakfast, moved up to water point breaking ice. Water tank filler plug frozen so had to boil the kettle again. Once full cracked on aiming for Broughton Arms. Good progress as most locks already set for us.
Stopped for second breakfast / elevenses after 8 locks i.e. just down from Hassall Green where we moored on Sunday night.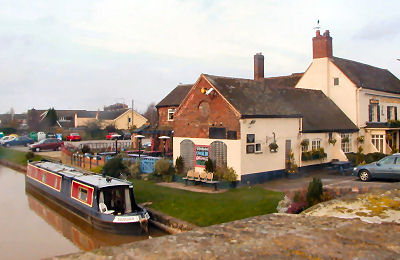 Final 6 locks completed by around 1pm and managed to moor directly outside pub (where we failed to moor due to strong winds when going the other way). Had a couple of pints and light lunch in pub. Andrew siesta mid afternoon. Alison and kids played very long game of cheat. Andrew wouldn't play as Alison reading his mind. Moved a few hundred yards up the cut to moor for the night (bridge 139) so engine would not disturb houses. Needed engine running to watch "Van Helsing". Alison got stove running this evening. Very snug! Pasta and chicken with creole / ratatouille sauce. Very nice. Kids not so sure...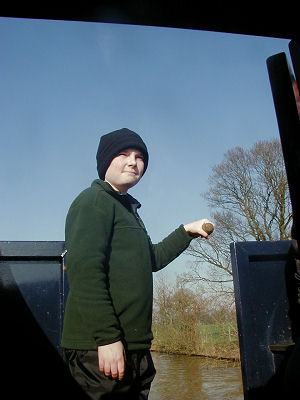 Other things today... Marc had a go at steering today and did well. Reminds him of part of one of his video games (but slower!). Beautiful weather all day. Cold but bright sunshine allowing us to see scenery we couldn't even guess at as we battled through the driving rain & snow on Sat / Sun. Ducks slipping on ice were very amusing. Saw a sheep dog bossing some cows around
Thursday 17th Feb 2005
Thurlwood to Etruria (7m, 12 locks and Harecastle tunnel)
Up around 07:30. Different weather again. Fog! Trickled up towards Kidsgrove. Topped up water at Red Bull then up to one lock short of tunnel. Walked into Kidsgrove. And back again...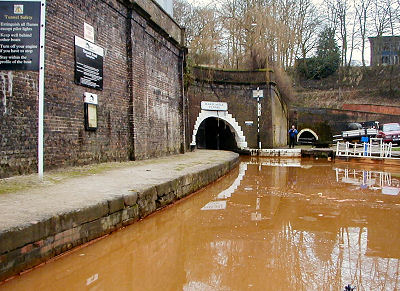 Big lunch of bread, ham and cheese followed by quiet hour before setting off to tunnel around 14:15. Through last lock and arrived at tunnel around 14:45. Straight in again. Bit less daunting this time. Don't know if the water was lower or just knew what to expect but Andrew didn't have to kneel down this time.
Marc had another go at steering on final stretch towards Etruria. Arrived around 16:15. Andrew had to try and back Sojourn into her berth with a load of people at the pub and half the marina crew watching. Got the stern in and had help to pull the rest round!. Filled up with diesel and booked pump-out for tomorrow. Headed on foot round to cinema to choose what to watch. Chose "First Daughter". Nice dinner at Pizza Hut then back to cinema for sweets and film. Not bad. Back to base for final night on board.
Friday 18th Feb 2005
Packed and off home by 09:30. Roll on May!